Contact Us
p: 425.483.9090
f: 425.486.5656
sales@formostfuji.com partsdept@formostfuji.com
The new redesigned Alpha 8 sanitary wrapper has the ability to be disassembled,leaving the wrapper wide open for inspection, cleaning and maintenance.  The sections of the wrapper that can be removed are the Center Fin Seal Assembly and the End Seal Assembly.   These are secured on custom built rolling carts during the cleaning process.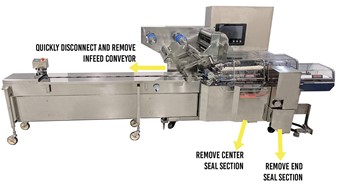 The Alpha 8 Sanitary Wrapper offers a quick, tool free disconnect of the conveyor from the wrapper, complete disassembly, and connection to a standalone drive/mounting station for cleaning the infeed conveyor chain (optional) allows for complete sanitation throughout the conveyor.
---
---
Formost Fuji's Sanitary Design Conveyor is known for its quick and easy tool free disassembly, allowing for thorough sanitation and complete visual inspection. Following strict design principals, this design reduces harborage and provides for better runoff.